COVID-19 Updates
Government Guidance
Help control the virus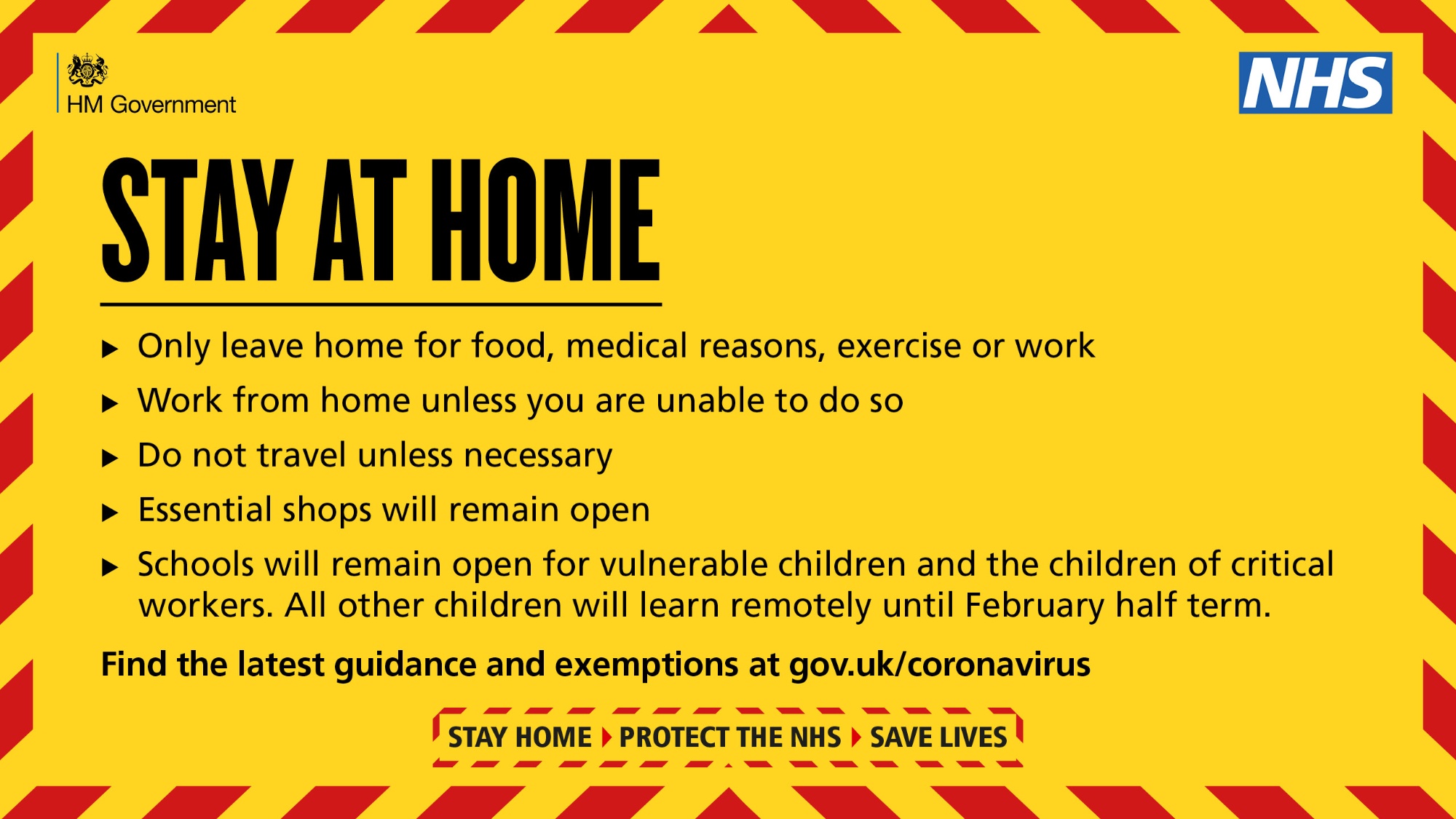 On 4 January 2021 the Prime Minister announced another period of national lockdown. This means you must not leave home unless it is essential.
If you do have to leave home, to protect yourself and others you must:
wash hands - keep washing your hands regularly
cover face - wear a face covering over your nose and mouth in enclosed spaces
make space - stay at least a metre away from people not in your household
If you are feeling unwell, get a test and do not leave home for at least 10 days.
Further guidance on what you can and can't do can be found at: www.gov.uk/coronavirus
What to do if you have COVID-19 symptoms
If you have symptoms: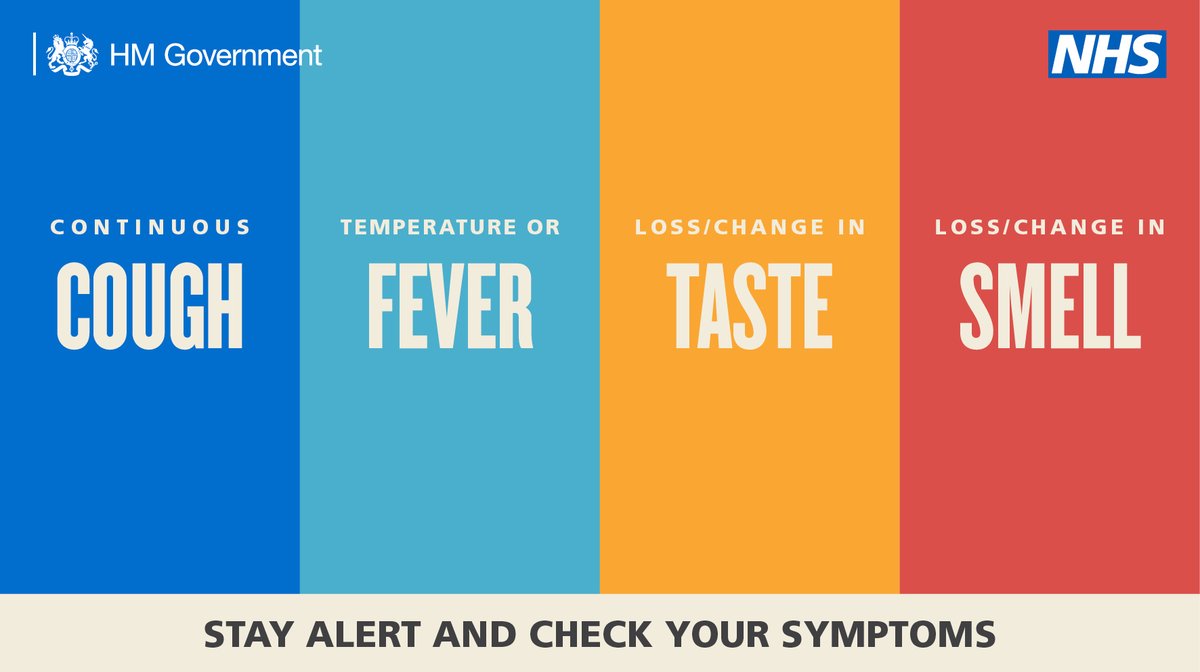 a high temperature
a new, continuous cough
a loss of, or change to, your sense of smell or taste
Do not leave home for at least 10 days after your test.
Find out more about COVID-19 testing and how long to isolate at: www.nhs.uk/coronavirus
COVID-19 School Procedures
COVID-19 UPDATES: March 2021
Faculty based learning and home testing
Rapid COVID-19 testing at home
As of 17 March, COVID-19 testing in school has now concluded. Families are now encouraged to conduct lateral flow tests at home.
Rapid COVID-19 testing in school
The following information explains arrangements for the return to school from 8 March, including rapid lateral flow COVID-19 testing in school:
Consent for COVID-19 Testing
Following the announcement by the Prime Minister recently and the Government plans for the return of all students to school for face-to-face education on 8 March, and to ensure school remains as safe as possible, students will take COVID-19 lateral flow tests as they return to school. Full details are outlined below.
Registration and consent for testing
To process the test, we will need to register and gain parental / guardian consent for all participating students and staff as soon as possible.
If you previously gave consent, please do NOT fill it in again.
Please submit the following registration form & consent statement (one per student) as soon as possible, and return them preferably via the online form. If you need a paper version please contact the school office on 01246 863127.
Please click the link below to give consent:
https://forms.office.com/Pages/ResponsePage.aspx?id=QsorYuQjDEimymgXOXVgQ7NzBIwRfvhIsAK8kHijHJ9UNzhVUThETTZNSEFJRVBHSzBZWkJQM0lYSi4u
Further information:
Covid-19 Protocols
Notifying school of a positive COVID-19 case
To notify us of a positive COVID-19 case within your household:
DURING SCHOOL OPENING HOURS: Call the school office on 01246 863127
OUT OF HOURS: Email covidnotification@tuptonhall.org.uk Please include the student's name, year group and form, plus a contact phone number.
The following flowchart may help you understand what to do if someone has COVID-19 symptoms:
FLOWCHART: Do you have symptoms of COVID-19?
---
Face masks / coverings
Amendment to mask / face covering policy (PDF)
From Monday 17 May 2021, students will have the choice to continue to wear face coverings / masks in classrooms, corridors, and social communal spaces, however wearing these will not be compulsory.
Students will be expected to continue to wear masks on buses whilst travelling to and from school.
Staff will continue to wear face coverings / masks whilst moving around corridors and whilst in communal spaces including work-rooms and offices.
If staff can maintain 2 metre distancing in classrooms from students, masks can be removed. Movement around the classroom / teaching environment where closer proximity is necessary, will require staff to wear a face covering.
If there is a change to the local landscape in terms of an increase in reported positive Covid-19 cases, a decision may be taken to re-instate current rules regarding the wearing of face coverings / masks.
IMPORTANT REMINDER: Students travelling on school buses and local service buses must keep their masks on throughout the journey (unless exempt) and follow the rules below. Failure to do so may result in refusal of travel.
---
Uniform policy
A temporary change to our uniform policy came into effect from Monday 5 October 2020. Students are permitted to wear a plain navy or black v-neck jumper under their blazer. This is to ensure they are not too cold when in classrooms which must be kept well ventilated. Please read the following letter for details.
---
Managing visitors in school
We are only allowing essential visitors into school. The following guide outlines our health & safety protocols to manage visitors in school.
Feedback Form - COVID-19 safety measures
Your feedback is essential to our planning around COVID-19 safety measures.
Please use the feedback form below for all comments and questions relating to school safety procedures.
Responses to feedback:
The following Questions & Answers Bulletins have been compiled using common themes taken from the Back To School Feedback Form. This is where we are collating all comments and questions relating to school safety procedures.
Home Learning
Getting started with Home Learning
Home (remote) Learning will be delivered through Class Charts, school email and Microsoft Teams.
Learning Links
Students can access Class Charts, student email and other learning platforms which supplement remote learning by visiting this page: Learning Links
Class Charts
ALL students and parents / carers have been given access to Class Charts. An access code is required. Most work will be explained in Class Charts even if it is a LIVE lesson on Microsoft Teams as well.
GUIDE: Using CLASS CHARTS
Here is a quick tutorial on how students can access a Teams lesson via the ClassCharts app on a mobile phone: https://youtu.be/eKjg8y-tgqY
School Email
This is the link for Microsoft Teams as well. Students login to their school email from the school website with their usual username and password. Links to lessons will be on email, Teams and / or Class Charts.
GUIDE: Using SCHOOL EMAIL
Microsoft Teams
Find recorded lessons in the 'calendar' section.
GUIDE: Live lessons in TEAMS
Help & Support
---
The School Day - at home
We intend to offer all of our students a 'normal' school day, albeit for the majority remotely at home.
8.30am
Students should join their Microsoft Teams virtual tutor group. Form tutors or Heads / Deputy Heads of House will deliver a daily tutor period from 8.35 am.
9.00am
Lessons will then begin at 9.00 am, following the normal school timetable day for the year group. They will comprise of live teaching, Class Charts online activities, voiced over power point presentations, worksheets, reading, videos and individual written work.
Each lesson, the teacher - supported in some lessons by our teaching assistant team - will be available throughout the lesson. They will either be delivering a live lesson on screen, interacting through email, providing feedback or answering questions.
At times they will also be setting quizzes, assessments and feeding back on student responses.
For guidance, we are following the government's expectations of 5 hours of provision per day for our students that follows the planned curriculum.
We are working hard to ensure that the work set is varied and not solely computer based. If your child begins to feel anxious about the volume of work to do, or is struggling to get it completed, please do not hesitate to contact school.
Support with student engagement
If we are concerned that a student is not engaging with lessons or submitting work, school will firstly work with students to see what can be done.
If we see no improvement we will contact parents / carers in order to find ways together to improve the situation.
In the first instance, your child's form tutor should be able to support, however if you have wider concerns about engagement please contact your child's Head or Deputy Head of House.
COVID-19 Updates - Archive
All previous COVID-19 communication can be found at: www.tuptonhall.org.uk/parents/letters
Please be aware that this has been a fast-moving situation and that health information in these letters may be out-of-date. You should always check the Government website for the latest advice.