GCSE students' success at Tupton Hall School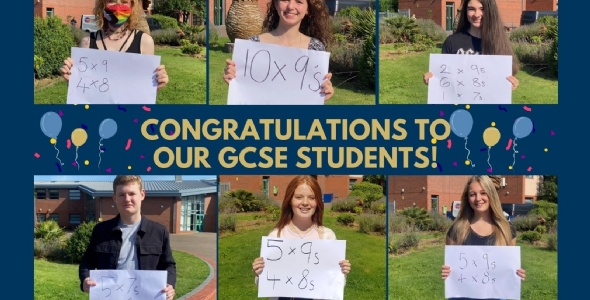 After another difficult year of pandemic restrictions, uncertainty and social distancing, the class of 2021 eagerly awaited their GCSE results at Tupton Hall School.
Students have had to adapt to remote learning, intermittent lockdown measures and the stresses of a global pandemic during two years of their GCSE studies. Overall, 61.3% of the cohort achieved 5 or more GCSE grade 9 to 4s, including English and Maths, and 37.4% achieved 5 or more GCSE grade 9 to 5s.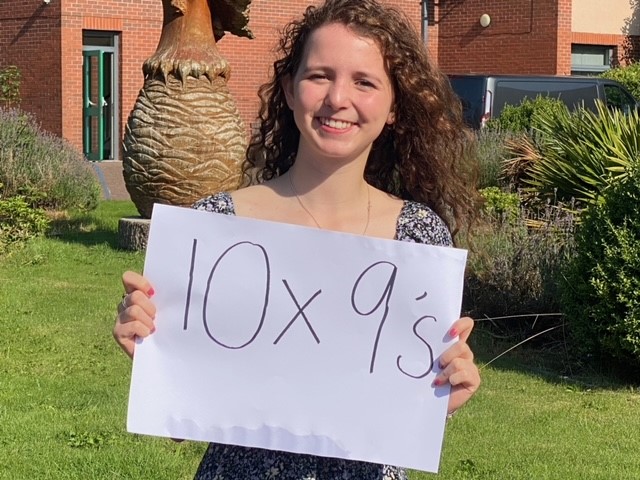 Headteacher Mr Andrew Knowles commented: "I am delighted for our students who have worked so hard to achieve their grades against the backdrop of months of uncertainty and anxiety. This is a day for great celebration and joy. Our students have earned these grades, and we congratulate all of them on their achievements."
He explained that the teacher assessed grades used instead of the typical summer examinations, reflected students' abilities, attainment and progress in a range of assessments. Grades were sent to the examination boards following a rigorous checking process to ensure that each student was treated equally and fairly. This included subject teacher estimates, faculty leader moderation of grades, senior leaders' cross moderation and examination board sampling.
Mr Knowles added: "I am very satisfied that our students are receiving the grades that they have duly earned and I thank the staff for their hard work, professionalism and diligence throughout this process. After an unprecedented two years of study both at home and at school, we now hope that all of our students can progress on to their chosen destination; either into sixth form, college, training providers or apprenticeships."
"Together with our Year 12 and 13 students, these young people have had to deal with great adversity and therefore deserve all of our efforts and resources to support them. The staff here are very proud of our students. Students and staff have shown great resilience and strength during the Covid-19 crisis which will be needed for the foreseeable future. We wish our young people the very best, and once again congratulate them on their achievements."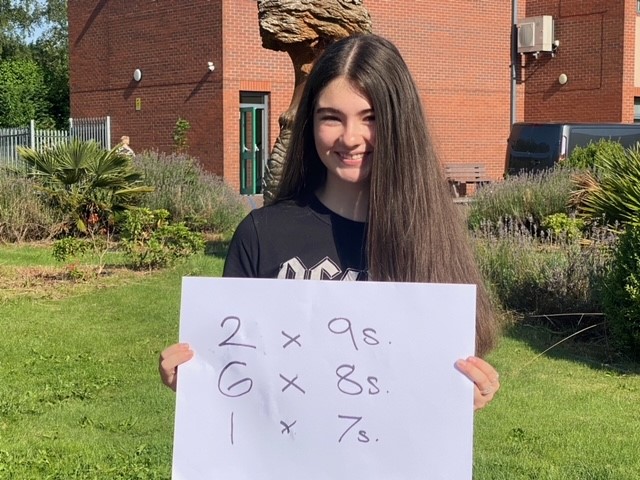 Frances Archibald was the highest ranked student in the year group, achieving an astonishing 10 grade 9s. Frances has put her success down to a "lot of focus and hard work", and plans on studying Maths, Further Maths, Physics and Philosophy at A Level. Collecting her results, she beamed: "I'm really happy! I worked really hard for these results and I'm so excited for the next chapter!"
Ava Bateman was amazed with her results, having achieved 2 grade 9s, six grade 8s and 1 grade 7. She said: "I'm so happy and excited, and I'm so thankful for all of the staff who have been here to support me." Ava has made fantastic progress from her Year 7 Starting point and will be studying music performance and song writing at Confetti Institute of Create Technologies in September. Music has always been a talent of Ava's and she expressed her excitement for her future music career, stating: "I'm just so excited to be able to do something I enjoy!"
Tabitha Bruty was extremely happy with her results, having achieved 5 grade 9s and 4 grade 8s. Tabatha said: "I'm overwhelmed at the minute, I can't believe it! I'm surprised and relieved." Tabitha will be returning to Tupton Hall Sixth form in September to study, with long term aspirations of working in forensic pathology. She praised the staff at Tupton Hall School, and cited their support and dedication as a contribution towards her incredible achievements, adding: "Now I know I've got my GCSEs, I'm excited to come back in September and carry on working towards my goals."
Joshua Cooper achieved a brilliant 4 grade 8s and 5 grade 7s, with views of heading to Chesterfield College to study Applied Science. Joshua said: "I'm happy with my results, and especially with everything that's been going on I feel like I have been supported by staff as much as possible during the pandemic. They have been great at keeping in contact and answering any queries. The school also has fantastic science and PE facilities, which has helped my success in those subjects."
Another of the top achievers, Aimee Cashmore, achieved an amazing 5 grade 9s and 4 grade 8s. Aimee said: "I didn't know what to expect, I'm so relieved, so overwhelmed, having missed six months of teaching this year it's been so unnerving, but I'm so happy with my results!" Aimee will be returning to Tupton Hall Sixth Form in September, and will be studying Biology, Chemistry and Maths. When asked about her future goals, Aimee said: "I want to go to medical school and work towards doing something in that field, attending Sixth Form will help me work towards that."
Sadie Boyle did fantastically, achieving 9 grade 7s and above, particularly succeeding at Maths and History. Sadie said: "I feel so good about my results, relieved, too. I'm going to be joining Tupton Hall Sixth Form in September and will be studying Maths, Biology and Chemistry. In the long term I'd like to become a doctor or surgeon, these results are the first steps towards that."
While many students will continue their studies at Tupton Hall Sixth Form, others are going to college to study vocational courses and apprenticeships.
Other high performing individuals:
Evie Tallboys-Cotton: 6 grades 8 and above.
Alfie Cordon: 9 grade 6s and above.
Jake Hartshorn: 8 grade 7s and above.
Evie Pullinger: 9 grade 8s and above.
Rhianna Wing: 8 grade 8s and above and a Level 2 Distinction*.
Alexandra Orwin: 9 grade 8s and above.
Hannah Shaw: 9 grade 8s and above.
Ella Parkin: 9 grade 6s and above.
Other students making outstanding progress from their Year 7 starting points:
Ciara Twigg: 3 grade 8s, 3 grade 7s, 2 grade 6s, 1 Level 2 Distinction*.
Emily Rogers: 2 grade 8s, 2 grade 7s, 1 grade 6 and 4 grade 5s.
Billie Jo Neale: 3 grade 7s, 4 grade 5s, 1 Level 2 Distinction and 1 Level 2 Merit.