Careers
Whether you already know what career you want, or not, now is the time to start planning.
These pages will give you advice and resources so you can start thinking about what happens after school.
Year 8 Options
At Tupton Hall School we give students three years to study towards their GCSE qualifications (Years 9, 10 and 11). We think this will give them an even greater chance of success.
In Year 8 we ask students to choose their GCSE subjects. We offer lots of guidance for students their parents to help with these big decisions.
Subject choices online tool
Use this online tool to discover jobs that might suit you based on your subject choices.
Enter up to six school subjects.
Careers guides - for students and parents
This guide has been created to help you better navigate and understand and prepare for the future of work. It focuses on the changes to the world of work which are expected to happen due to the Fourth Industrial Revolution and resulting automation.
Careers Guides by Subject
Careers information for parents
These parents' guides provide parents with the information they need to help their teenage children make the right choices to create successful futures after GCSE and sixth form.
This guide provides parents and carers with the information they need to help their teenage children make the right choices to create successful futures after GCSE and sixth form. Our online guides are designed to inform, involve and guide parental support. They include the most up to date information on topics such as apprenticeships, universities and revision techniques.
GUIDE: The Parents' Guide to Helping Your Child Know What's Next (PDF)
(Topics include: university and the UCAS process, options at 16 and 18, personal statements, apprenticeships, other options)
GUIDE: The Parents' Guide to Homelife & Study (PDF)
(Topics include: boosting your child's immune system, helping your child study at home, protecting your child's mental health)
Post-16 Choices
After GCSEs, you could:
stay in school and study A Levels at Tupton Hall Sixth Form
do a hands-on vocational or technical course at college
embark on an apprenticeship through a work-based training provider
A Levels
A Levels are academic qualifications which are traditionally used to progress on to university-level study.
With A Levels you can choose to study up to three different subjects at a time.
A Levels are studied over two years and are assessed by exams and coursework.
Tupton Hall Sixth Form is a lively and successful post-16 centre where you can choose from a wide selection of A Level subjects.
The sixth form offers a supportive and caring environment in which to study and gain valuable extra-curricular experiences.
Most students go on to do a degree at university. The sixth form has good links with lots of universities, allowing students the chance to attend open days and events where they can experience university life.
Vocational / Technical qualifications
A vocational or technical qualification is the name given to courses which focus on one subject area; at college there is a wide range of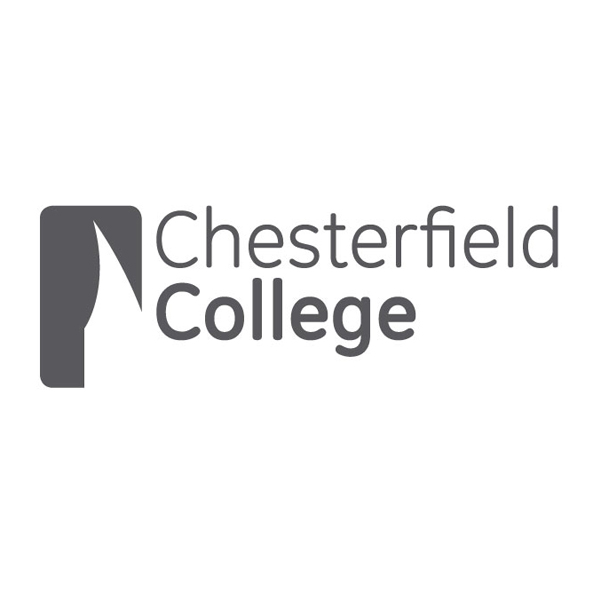 vocational qualifications to choose from including art, hair and beauty, business, construction, sport, vehicle technology and many more.
These qualifications are also sometimes referred to as BTECs or diplomas.
A vocational course is often divided into hands-on industry experience and theory work in a classroom.
Chesterfield College is a large further education college with three main campuses in Chesterfield and three satellite apprenticeship centres in Manchester, Nottingham and Birmingham.
It offers a wide range of vocational / technical courses and apprenticeships. The college also has a university centre.
Apprenticeships
An apprenticeship is a real job, with hands-on experience, a salary and the chance to train while you work. You're treated just like all the other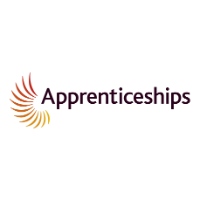 employees, with a contract of employment and holiday leave.
If you're 16 or over, you can become an apprentice as long as you spend at least 50% of your working hours in England - for the duration of the apprenticeship and you are not in full-time education.
When you're an apprentice:
you get paid and train at the same time, with at least 20% of your time spent in off the job training, often at a college, university or with a training provider
you train to be fully competent in your chosen occupation
you're on a career path - with lots of future potential for you
LINKS & RESOURCES
Applying For Apprenticeships - Top Tips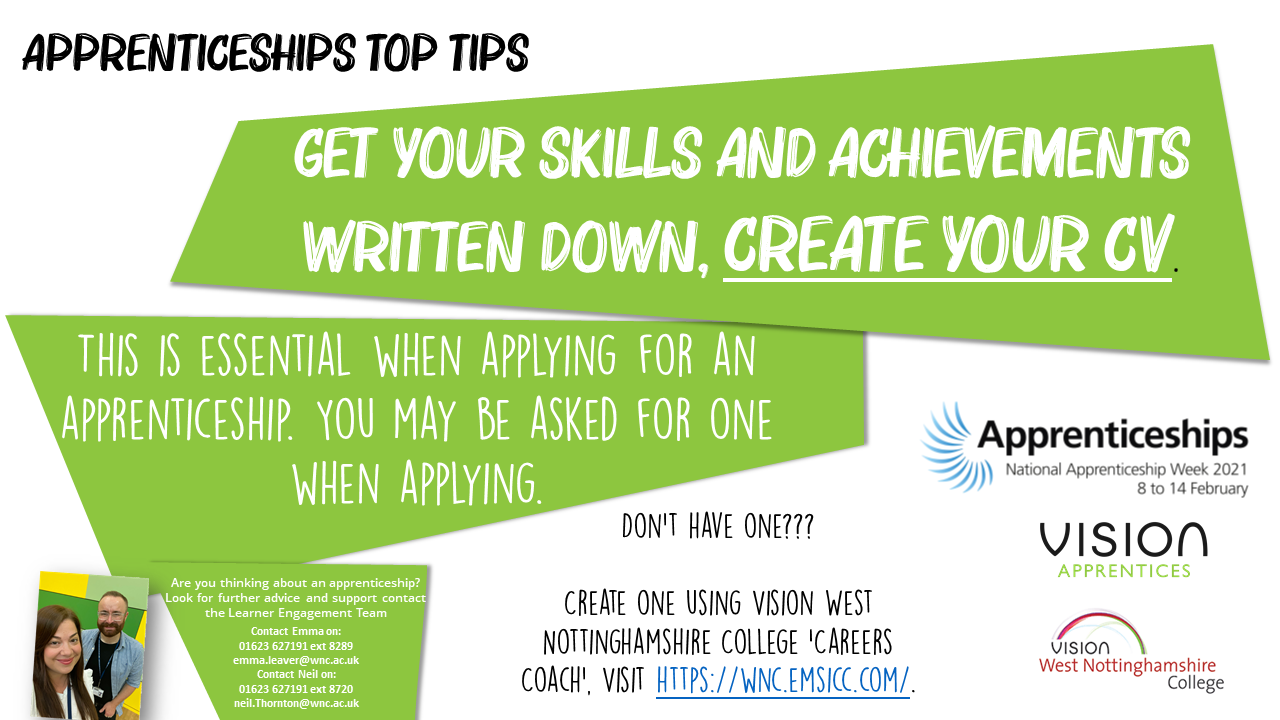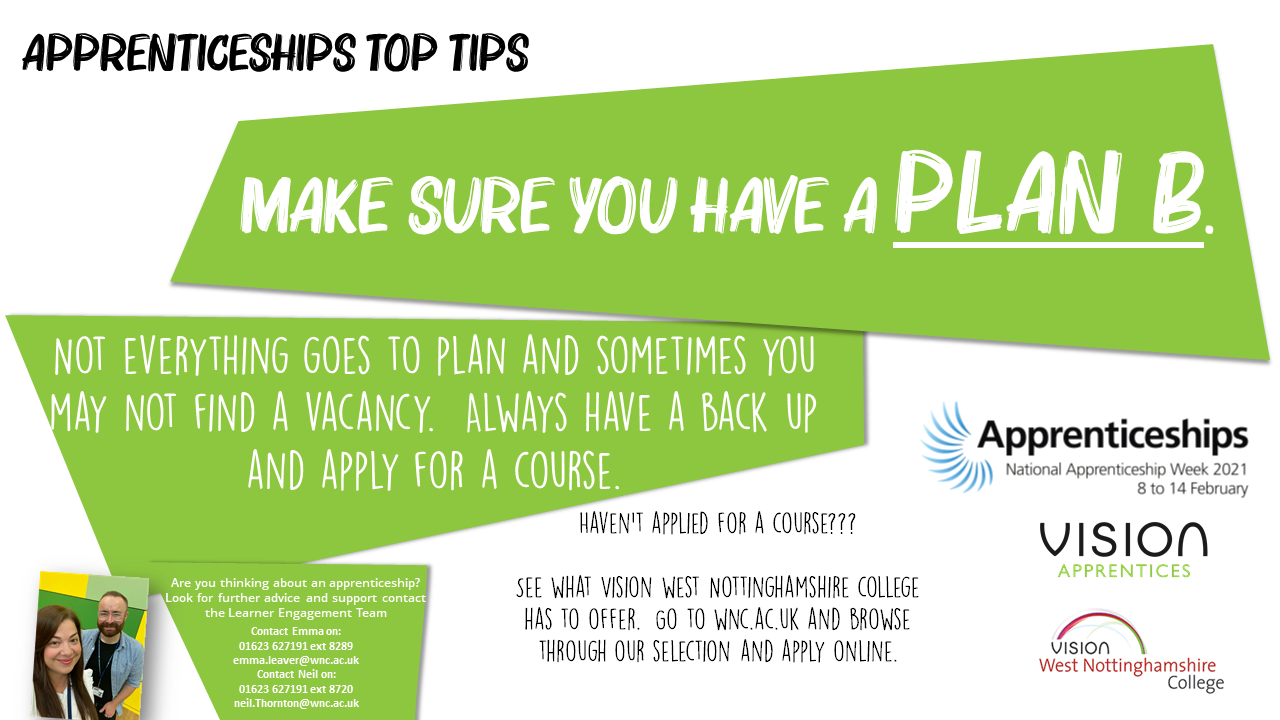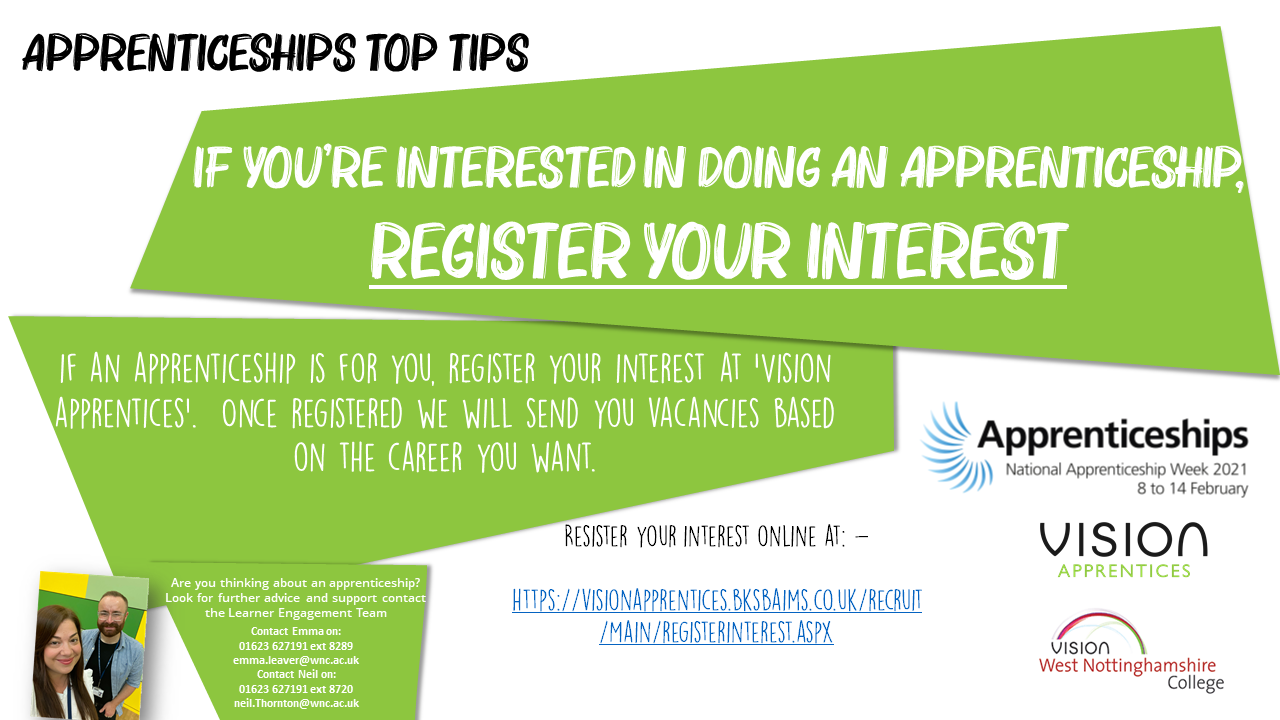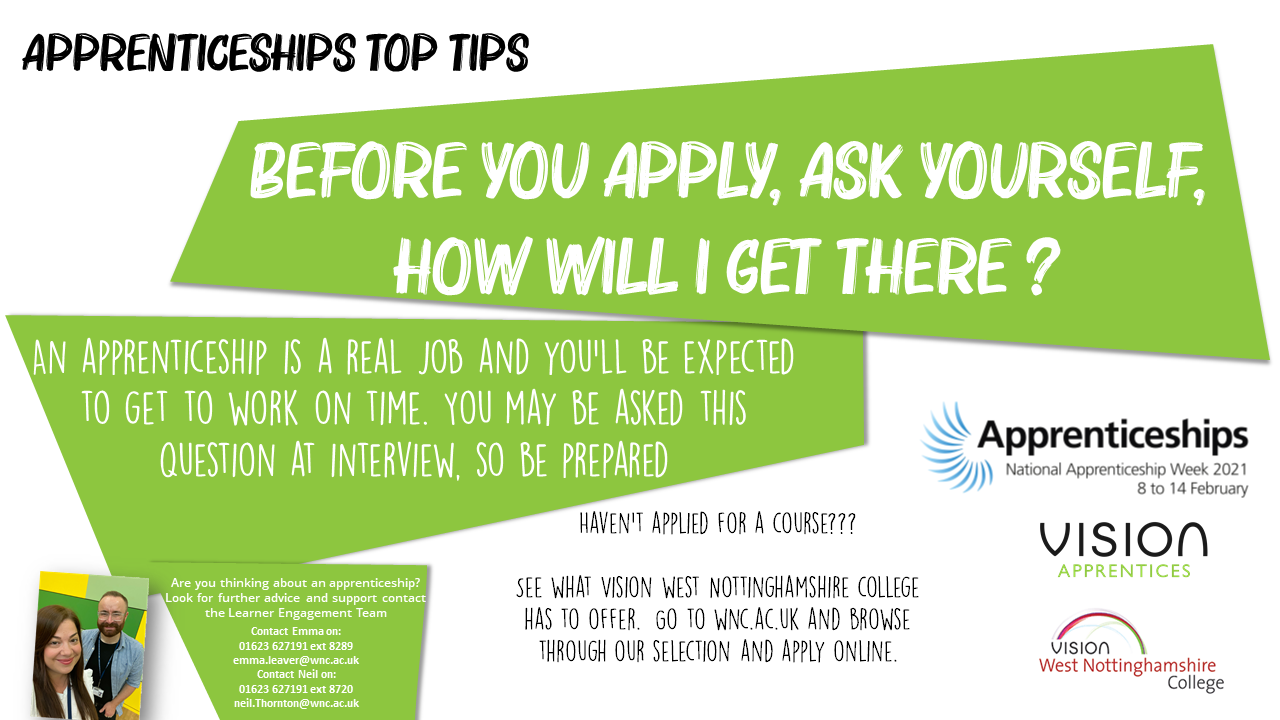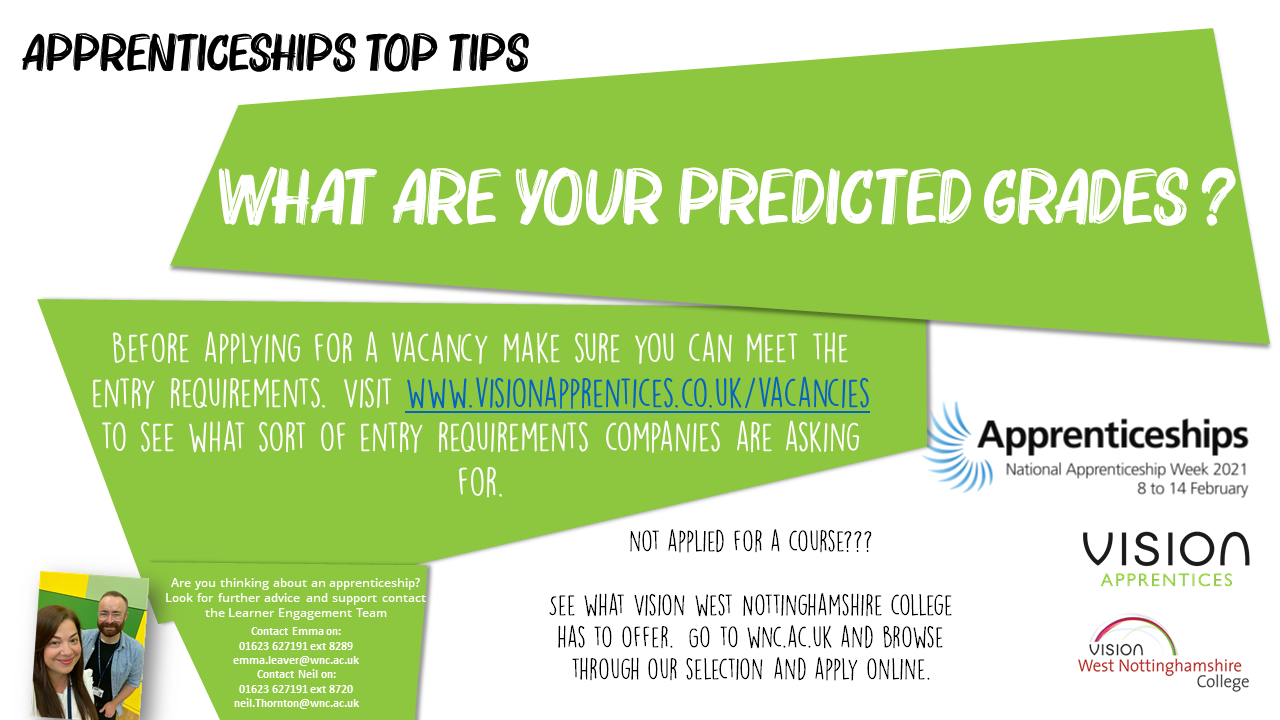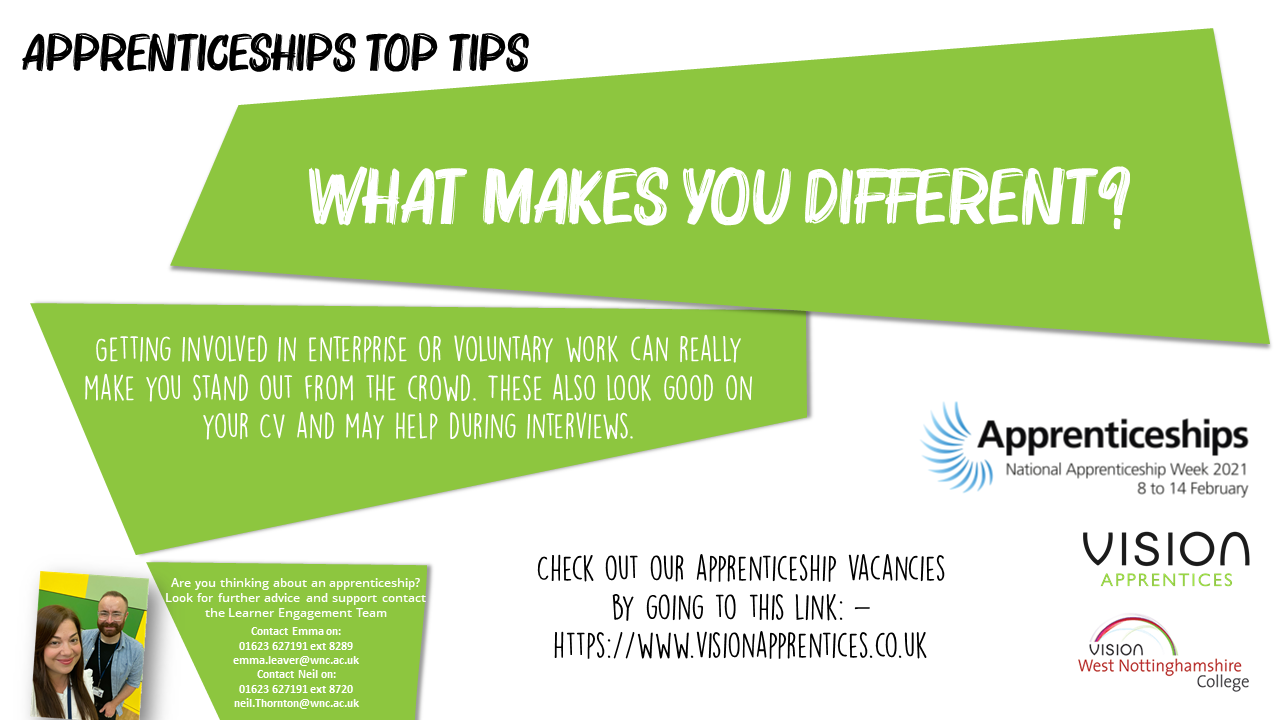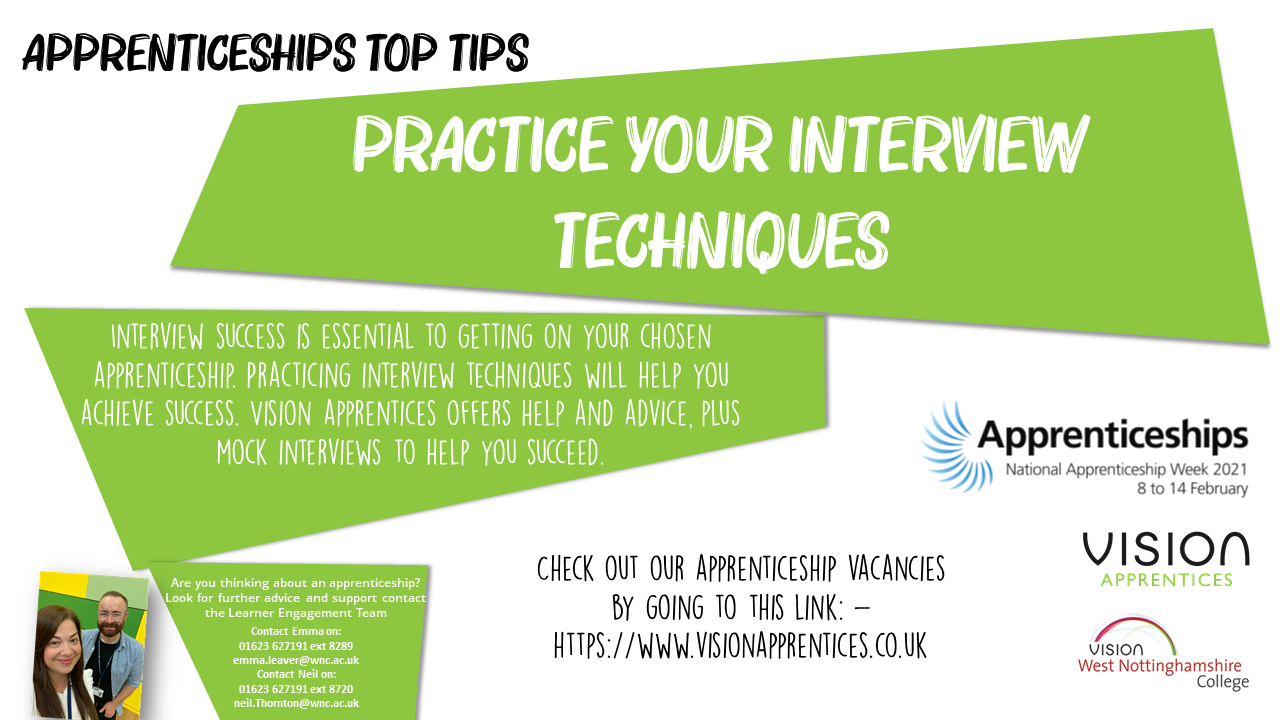 Post-18 Choices
Higher Education
After leaving school, most students who are going onto university or college study for an undergraduate degree. These are usually made up of modules (some compulsory and some optional) that add up to a full degree.
Bachelor degrees usually last either three or four years if studied full-time (although some courses are longer). You can concentrate on a single subject, combine two subjects in a single course (often called dual or joint honours courses), or choose several subjects (combined honours). Most courses have core modules, which everyone studies, and many courses allow you to choose options or modules to make up a course that suits you. Some bachelor degrees offer a sandwich year, involving an additional placement or year in industry, which forms part of the course.
Some students set their heart on a particular university, while others just want to choose the course they like the sound of best. Either way is fine, but make sure you do your research, as changing your university or college once you've started isn't always easy.
Here are some top tips to help you when choosing where to study:
Attend an open day – we cannot recommend this enough. It's an opportunity for you to meet the course tutors, see the facilities, and explore the area.
If you can't attend an open day, explore the campus with a virtual tour.
Check the application deadline – some universities and courses have a different application deadline, so make sure you know the deadline associated to your chosen course or uni.
Check the entry requirements – different courses and universities will have different entry requirements.
Higher Education Advice (Booklets & Videos)
Careers Framework
Tupton Hall School as part of The Redhill Academy Trust has adopted a detailed Careers Framework, which sets out our careers information, advice and guidance provision. The aim is to help our students achieve the 10 career and employability goals within the framework:
ACHIEVING
ACCOUNTABLE
RESILIENT
SELF-MOTIVATED
SELF-ASSURED
ASPIRATIONAL
INFORMED
ENTREPRENEURIAL
EXPERIENCED
CO-OPERATIVE
Read more about how we implement the Careers Framework throughout our students' time at school:
Tupton Hall Careers Framework (PDF)
Our Commitment - Baker Clause statement
As part of our commitment to informing Tupton Hall School students of the full range of learning and training pathways on offer to them, we are happy to consider requests from training, apprenticeship and vocational education providers to speak to our students.
Tupton Hall School proactively seeks to build on close working relationships with providers to speak with students, which may include school assemblies, employer and provider engagement events or opportunities to speak with students and parents on a one-to-one basis supporting GCSE, post-16 choices.
In the first instance, requests by providers should be sent to the school's Careers Lead Mr Carl Sinclair with a minimum of 6 weeks' lead time. All requests will be considered on the basis of; staffing, availability to support the activity, clashes with other planned activity, trips or visits to the school, interruption to preparation for examinations and space availability to host the activity.
Date this information will be reviewed: Summer Term 2020