Sixth Form Applications are Still Open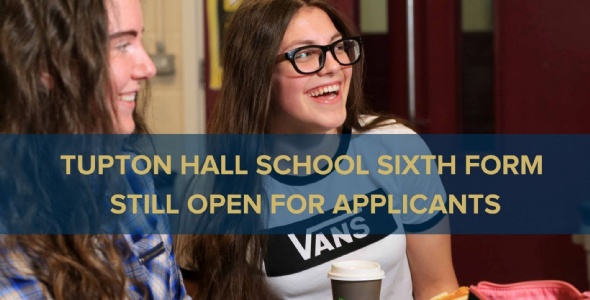 Does your child know what to do once they have completed their GCSE studies?
Are they wondering what subjects to delve into, questioning which Post-16 option is best for them? It's not too late to join Tupton Hall School's Sixth Form.
Ofsted deemed Tupton Hall School's Sixth Form a "strength of the school", and students enjoy their time studying there. Alumni have commented; "I have enjoyed my time at Tupton Hall Sixth form. I feel like all the staff can always make time for you to help you overcome any issues you might be having. They are great at answering questions and supporting students. It's a really welcoming environment to have learned in and a great community to be a part of."
Another student said; "All the staff at Tupton Hall School have been so supportive and kept in touch. All the resources have been fantastic throughout the pandemic, and the Sixth Form has supported everybody's mental health and well-being. There is such a friendly community at Tupton Hall School."
Head of Post-16, Mrs C Burton, said; "We would encourage any student that is considering A Levels to register an interest in starting at Tupton Hall Sixth Form; it is truly a great place to study. The A Level results are consistently amongst the highest in Derbyshire and the progression into university and specialist career routes is excellent."
Mrs Burton continued; "The students lead the way in setting examples for all to follow they are role models and a warm and welcoming group of students that really do support each other."
If students wish to apply, click here start the online application.