Students Tackle the Great Debate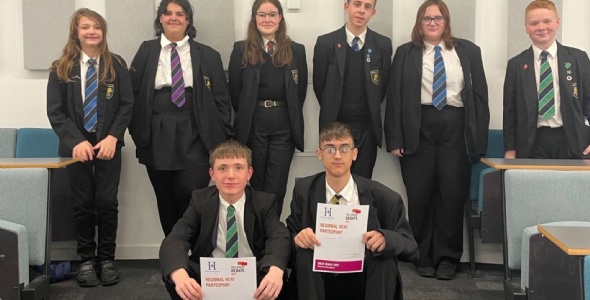 Members of the Tupton Hall School's Debate Club travelled to the University of Sheffield last week to take part in the Historical Associations 'Great Debate' competition.
Joshua and Caleb delivered exceptional speeches in response to the question Which historical place or person from your local area deserves greater recognition?
Josh, who is originally from South Africa argued that Chief Shaka of the Zulu tribe, and South African history generally, should be given greater emphasis in British History curriculum. Caleb argued that the important and unique role that Hardwick Hall and its founder Bess of Hardwick had on English history and architecture makes them stand out as areas of local interest. As the youngest participants in the regional heat, both Josh and Caleb were praised for the content and confident delivery of their speeches.
Both participants were cheered on by a further six students from the Debate club. All members were treated to outstanding speeches from other local schools, including ones discussing the impact of Helen Sharman, the Sheffield Student Games, and Barbara Castle.
The competition runs annually and is open to students from Years 10-13. The Debate Club runs on Mondays after school and is open to all years. Anyone interested in joining should speak to Mrs Harvey-Grayson or Miss Webb.