Successful Launch of 'RESPECT' Booklets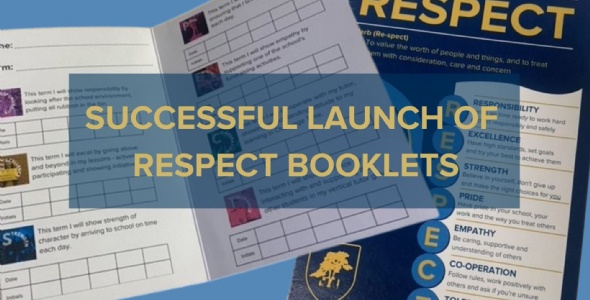 At Tupton Hall School, staff believe that learning extends beyond the classroom, and as such, intend to help each and every student develop as a whole child.
This means that the focus includes not only educational attainment, but also personal development. In order to promote positive attitudes and values that will help students to succeed in their post-school lives, the Respect Agenda has been launched. The Respect Agenda includes promoting important values that encapsulate the Tupton Hall spirit, success & kindness. The values include responsibility, excellence, strength, pride, empathy, co-operation & tolerance, all of which support the overarching idea of being respectful towards staff and peers.
The campaign was initially launched after October Half Term, where students were provided with Respect Booklets where any positive contributions they make to the school are recorded by staff. The criteria for a student to achieve a signature in their respect booklet is varied, and includes keeping social areas tidy, actively participating in lessons, being punctual, bringing the correct equipment to school, supporting fundraising activities, showing outstanding attitude to learning and displaying tolerance by interacting well with peers
These tasks promote the values that will help students excel both in school and externally. After two years of disrupted learning due to COVID-19, Tupton Hall School believes that recognising any achievements and re-adjustment to school life is of crucial importance. When asked about the effect of the Respect Cards, Senior Assistant Headteacher, Mr Melton, commented; "Students have really embraced the respect cards. They see the value in demonstrating qualities that are celebrated by the Respect Agenda. We have been touring the school, popping into classrooms looking to sign students' cards and we are always delighted by the number of students being nominated by teachers. Long may this continue!"
Mr Melton also discussed the importance of recognising good attributes, stating "We fully believe in rewarding students and it is central to our Respect Agenda. We are proud that so many students are starting to get their booklets completed and many more are receiving recognition through our Learner Mark Awards and Star Awards. This resilience demonstrated by so many of our students will provide them with excellent life skills moving forward."