T'Oscar goes to...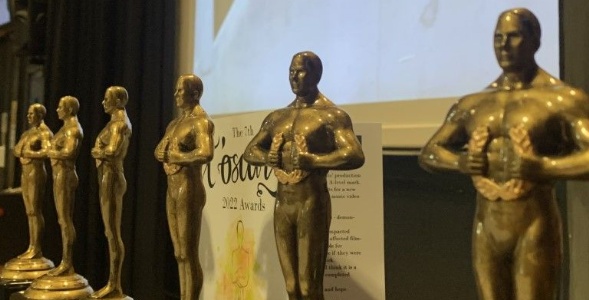 The Year 13 T'Oscars were back this week after a three-year break due to the pandemic.
The T'Oscars offer a chance for Media students, friends and families to come and enjoy the production work from their A-level in Media Studies. On the night, the winners of the Audience Choice Award was Leah with Caleb and Millie getting the runner-up prizes. Best Actor went to Lucy and the Best Supporting Actor was won by Grandma Sue (who also happens to be an exam invigilator at our school). Ex-member of the English Faculty, Miss Fry, returned to give her Fry's Choice Award which went to Calel.
The event also welcomed the Media After School Club for the premiere of the sequel to 2019's Into Film 'Runner-Up' Film of the Month, 'Status Clone'. You can see many of the music videos on Tupton Hall Media YouTube page.
Media studies subject leader and organiser of the event, Mr Welch, commented; "For the past two years, most students have been unable to complete their final productions due to the pandemic. Even this year the exam board allowed students to submit prototypes and plans instead of the finished product. We decided we were going to do everything possible to get the final music video productions complete. Not just to pass the exam but because often this is the piece of work students are most proud of even five years down the line! It was lovely to have so many students and parents at the evening and see such great quality productions on the big screen. I want to congratulate the Year 13s for their resilience, perseverance and creativity."