Tupton Hall School Hosts Support Seminar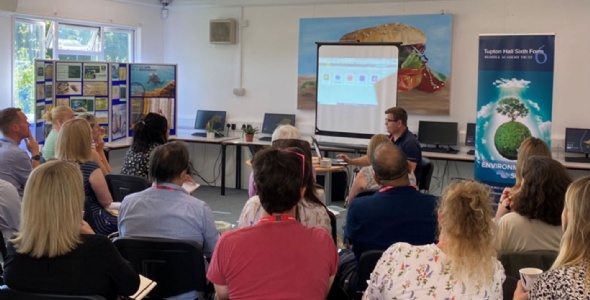 Tupton Hall School hosted their first Environmental Educator Support Seminar for teachers of the subject to attend.
Staff came from across the country to hear talks from industry professionals and to discuss the importance and changing nature of Environmental Science. Some presentations included information on setting up the course for the first time, essay writing and marking, field work and feedback.
Head of Post-16 Science, Mrs Spencer, organised the event and commented on its success; "The event went extremely well and we look forward to hosting a similar event soon!" The seminar had speakers from AQA, Dr Frost Maths, LEAF Education, and many more, allowing Tupton Hall School to act as a gathering place for the educational community.
Follow our fantastic speakers on Twitter:
Leaf Education - @LeafEducation
AQA - @AQA
Institute of Quarrying - @IQ_UK
City of Stoke on Trent 6th Form College - @SOT6FC
Scarborough university technical college - @ScarboroughUTC
Truro & Penwith College - @Truro_Penwith