Tupton Hall Scientists Celebrate Success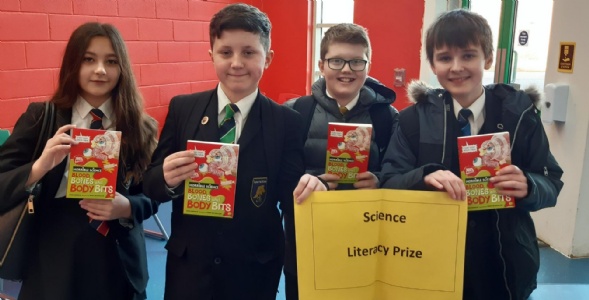 Year 7 students have been rewarded for their fantastic effort in science lessons.
10 students in Year 7 have had their scientific success recognised by staff at Tupton Hall School. The students had their hard work and achievement in science classes formally acknowledged and rewarded in an achievement known as the 'Science Literacy Prize'.
The celebrations involved students gathering and being congratulated on their dedication to their learning. They were subsequently awarded a 'horrible sciences' book and had their parents and carers notified of their achievement.
Science teacher, Mrs R Humphreys, commented; "Pupils have been studying Reproduction and excelled in their use of key terms, shown skill in extended writing about puberty and demonstrated confidence with questions and answering in the topic."
Tupton Hall School firmly believes in celebrating all achievements and aims to recognise students who are going above and beyond to improve their skills and demonstrating the Tupton Hall School values of respect, hard work and taking responsibility for their own learning.