National Science award for Hannah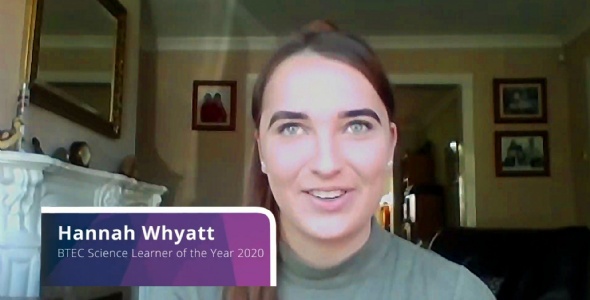 The exceptional achievement of Tupton Hall Sixth Form student Hannah Whyatt was celebrated as she was awarded the prestigious BTEC award for Science Learner of the Year 2020.
Hannah was recognised as an exceptional student by her teachers and praised for her outstanding potential and tenacity throughout the course. She was described as a committed student with the ability to inspire other students to do their best.
Hannah's hard work and dedication was celebrated at the tenth anniversary of Pearson's annual BTEC Awards hosted online on 25 June 2020.
BTEC Science Student of the Year, Hannah Whyatt, commented: "Being nominated I was honoured that my teachers saw the potential in me and believed in me even when I didn't. Then being told that I had won came as a huge shock but at the same time I was thrilled that my hard work and dedication had paid off."
Hannah hopes put her passion for science into practice when she embarks on a degree in forensic science at Nottingham Trent University in September.
She added: "Winning this award has given me a boost of confidence allowing me to see that I can achieve anything I put my mind to. I would like to thank the science department and my parents who pushed me to better myself, this achievement will no doubt help me improve throughout my career in science knowing that I will always have people there to encourage me that I am on the right path and give me the assurance that I need to continue."
The 2020 BTEC Awards comprised of 17 categories and was hosted by presenter of the United Stand, YouTube influencer and BTEC Ambassador, Flex, with awards presented by Double Olympic Gold medallist Max Whitlock as well as actress and former BTEC Drama student at The BRIT School, Kellie Shirley. The expert panel of judges made up of Pearson's senior leadership team, journalists and external experts, carefully considered the nominees before deciding on the winners.
Charlotte Burton, Head of Sixth Form at Tupton Hall School, said: "We are absolutely delighted that Hannah has been crowned the winner of BTEC Science Learner of the Year. Hannah is a passionate scientist and has demonstrated a true passion and aptitude for the subject. She has constantly pushed herself to learn more and apply her knowledge to new topics. I am proud of all of our students at Tupton Hall School and the Science department encourage them to achieve at the highest levels."
Cindy Rampersaud, Senior Vice President BTEC and Apprenticeship, said: "This year I've been over-whelmed by the quality of BTEC Award nominations we received and I am delighted to celebrate this year's winners and the achievements of all learners who will be awarded a BTEC this year. Over the past few weeks and months we've seen how the current pandemic has highlighted the critical role of key workers and individuals who are likely to have followed a vocational educational pathway such as BTEC."
Pearson has overseen BTEC qualifications for over 30 years and during this time the qualifications have equipped millions of learners with the knowledge and practical skills that employers need. A poll by Pearson found that two-thirds of medium-sized businesses have hired BTEC graduates in the last five years, and nearly a quarter of learners going to university do so with a BTEC. An overwhelming majority of employers and young people want to keep their options open at 16 and gain the blend of academic, practical and transferable skills that BTEC provides that are so valued by industry and employers.
In response to new careers emerging within industries and ongoing change, Pearson is continually adapting and innovating its BTEC curriculum and learning to ensure it is relevant for young people and adults – supporting progression and career aspirations throughout lives. The recently launched BTEC qualification in esports, in partnership with the British Esports Association, is a major step forward in supporting the creation of long-term careers in the growing esports industry both in the UK and internationally. In addition, Pearson's BTEC partnership with Liverpool Football Club, announced earlier this month, will enable learners in international markets to acquire the expertise, skills and knowledge required for careers in the rapidly expanding global sports sector.