Sixth Form "Moving on Day"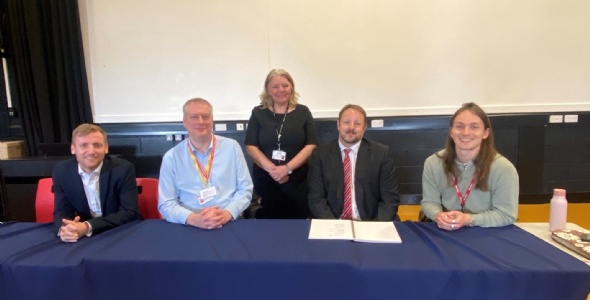 Sixth Form moving on day was a great success, intending to help students to prepare for life after Sixth Form.
On Thursday 7th April, Sixth Form students from both Brookfield Community School and Tupton Hall School were invited to attend a careers fair in the Richard Smith Hall. Many providers attended from a variety of sectors, including construction, local hospitality businesses and fantastic volunteering opportunities. There were also visits from the school's careers advisor, David Holloway and apprenticeship providers.
This was followed by a helpful presentation discussing the importance of Money Management. The sessions were taught in mixed groups, allowing students from the two different Redhill Academy Trust schools to work together.
After wellbeing sessions and advice surrounding CV creation and job hunting, students gathered in the Richard Smith Hall once more for an exciting activity; the rare opportunity to participate in a 'Question Time' style panel with 4 local politicians from the Green Party, the Labour Party, the Liberal Democrats and the Conservatives.
The representatives were each given the opportunity to answer fantastic and insightful student questions. The topics discussed varies, from local issues and resources, University fees, fair wages and life as a politician. Students were immersed in the conversation, listening intently as the panellists presented their responses.
"There was a sense of excitement and true involvement in the event as students asked their questions and awaited responses," one of the attendees commented. "There was a real sense of inspiration, and some students even stayed behind afterwards to ask more questions to the politicians in their own time."