Students celebrate excellent A Level results at Tupton Hall Sixth Form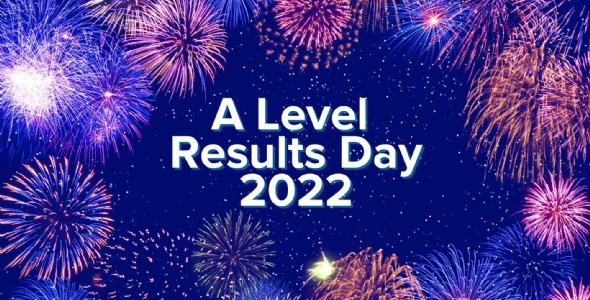 Anticipation was palpable as the class of 2022 returned to Tupton Hall School, part of the Redhill Academy Trust, to receive their A Level results.
Sixth Form students have collected their results and stepped into the next chapters of their lives. This year sees the highest number of successful Oxbridge applications in the school's history, with two successful applications to the University of Cambridge and one to the University of Oxford. Overall, the cohort achieved a brilliant pass rate of 99.5%. The percentage of A* to A students was 24.1%, with 55.9% being A* to B.
Head of Sixth Form, Mrs Charlotte Burton, said: "These students have endured a global pandemic; were unable to sit their external GCSE exams and experienced prolonged periods of virtual and remote learning. They demonstrated resilience, compassion, maturity and levels of independence that will enable them to flourish as they progress onto their next steps. More than 100 students have progressed onto university while others have taken opportunities with apprenticeships and the armed forces."
"We are celebrating specific success with Oxbridge applications; with James Wilbourne (Natural Sciences) and Andrew Carter (Medicine) both securing places at the University of Cambridge, while Libby Morrell will study English Language and Literature at the University of Oxford. Lucy Johnson, Chloe Wakeling and Lyssa Comins have all secured places at nationally recognised performing arts institutions."
"Tupton Hall Sixth Form recognises the success of every student; these results are a stunning refection of their determination and potential. We wish our students every happiness in their future endeavours."
Tupton Hall Sixth Form is one of the most inclusive Sixth Forms in Derbyshire, welcoming students from as many as 11 local schools. Students can choose from a diverse range of A Level subjects and are able to flourish and achieve their goals in a supportive environment.
Many Tupton Hall students are now heading to universities across the country to study subjects as wide ranging as Sports, Psychology, Veterinary Science, Child Nursing, Law, English Language and Medicine. Others are beginning their careers by embarking on apprenticeships in fields such as the NHS, electrical engineering and the vehicle industry.
Mr Andrew Knowles, headteacher of Tupton Hall School, said: "We are delighted for our students. Their diligence and hard work in the Sixth Form has been duly rewarded, particularly considering the difficulties that the pandemic presented for them and the school. We are all very proud of this wonderful group of individuals who now go on to the next exciting phase of their lives, equipped with the qualifications and confidence to achieve further success. I would like to thank our highly skilled staff and supportive parents and families who have provided great teaching, pastoral care and encouragement for our students throughout this time."
Madeline Blore has studied for 3 A Levels, securing two A*s and one A in Sociology, English Language and Psychology. In September, Madeline plans on studying Midwifery at the University of Derby. She said: "My experience at Tupton Hall Sixth form has been amazing. The teachers are so supportive and push students to do their best. They are always there to give words of encouragement when you need it."
Melissa Moxon has been awarded an amazing 3 A*s. She achieved an A* Sociology, A* in Law and another A* in Psychology, and will head to University of Leeds to study Law. She said: "The main thing about Tupton Hall Sixth Form for me is the supportive staff. The teachers go above and beyond to help students, and it's good to know there's always someone there to help if or when you need it. They are great at communicating and responding to emails if you're having any problems."
Charlotte Bradbury-Marsh will be joining the Royal Air Force and commented; "I heard about the RAF through Sixth Form and was given helpful information guiding me towards it as a potential career. The staff have been so supportive and have enabled me to progress to the RAF."
Libby Morrell has been awarded three A*s in English Literature, Law and Sociology. Libby has done exceptionally well and will be attending the University of Oxford in September, studying English Language & Literature. When asked to reflect on her time at Tupton Hall Sixth Form, Libby commented; "The support and wellbeing throughout my Sixth Form experience has been excellent. I have made friends for life and have ended up exactly where I wanted to be!"
James Wilbourne achieved a brilliant A in further Mathematics, an A* in Mathematics, an A* in Chemistry and an A in Physics. James will be attending the University of Cambridge in September, and will be studying Chemical Engineering via Natural Sciences, aiming to work in this field in the future. "My time at Sixth Form has been great, I have felt supported by staff and have experienced great teaching from staff who want you to succeed."
Andrew Carter wants to become a doctor, and has secured brilliant results; an A* in Mathematics, A* in Further Mathematics, an A* in Physics, an A* in Chemistry and an A* in Biology. Andrew will be attending the University of Cambridge to study medicine. Reflecting on his Sixth Form journey, Andrew said; "Sixth Form has helped me to become independent. The teachers are supportive and I wouldn't have been able to study medicine without them encouraging me to take my exams early and tailoring my education to meet my future goals."
Hannah Spencer studied Psychology, Law, Drama and Mathematics, earning three A*s and one A. Hannah's hard work will see her studying Psychology at the University of St Andrews in Scotland, Prince William's Alma Mater. "My results are better than I could've dreamed! I'm so grateful for the helpful supportive staff and pastoral team who have been here for me during my time at Tupton Hall Sixth Form. The staff are fantastic at keeping in touch and making students feel seen, supported and reassured. The amazing staff have been the backbone of my A Level journey!"
Other high performing individuals:
Evie Twell: A*, A*, B in English Language, Psychology and Biology.
Jasmine Watkinson: A*, A, B in Sociology, Psychology and English Language.
Ellie Porter: A*, A, B in Law, Business Studies and English Language.
Kieraan Pattar: A, A, A in Biology, Chemistry and Mathematics.
Joshua Davis: A*, A, A in Sociology, English Literature, and Psychology.
William Nelson: A*, A*, A* in Chemistry, Mathematics and Physics.
A further selection of student destinations: (8)
Lucy Johnson: Secured one of 22 places nationally to study acting at The Liverpool Institute of Performing Arts.
Alicia Hart: Successfully completed all entrance exams to enter the Navy.
Grace Lane: University of Bristol, Veterinary Science.
Sinead Twigg: University of DeMontfort, Fine Art.
Chloe Wakeling: BIMM, Musical Theatre and Dance.