Year 13 Go for Gold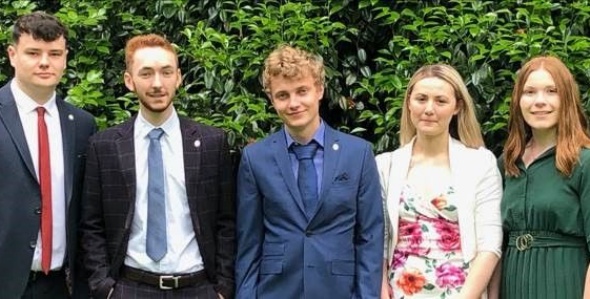 Our Year 13s have celebrated their hard work towards their gold Duke of Edinburgh awards at Buckingham Palace
Tupton Hall Sixth Form's Year 13 Duke of Edinburgh participants were invited to their Gold Awards presentation in the gardens of Buckingham Palace. The celebrations were well deserved, as students had to overcome many obstacles to obtain their awards. As with almost all aspects of life over the last few years, the infamous COVID-19 pandemic significantly disrupted the programme, alongside the intense requirements of the Gold Award.
There are four sections to complete at Bronze and Silver level and five at Gold. They involve helping the community/environment, becoming fitter, developing new skills, planning, training for and completing an expedition and, for Gold only, working with a team on a residential activity. The benefits of achieving a DofE Award at any level are endless. DofE is about helping students along the path to a productive and prosperous future.
Achieving a Duke of Edinburgh Award, especially gold, gives students skills, confidence and an edge over others when moving on to the next stages of their lives, whether that's college, university or a job. The Award helps students to develop outside the classroom and provides proof of a well-rounded individual - a concept particularly attractive to universities. Alongside progressing student's skills and boosting their confidence, Duke of Edinburgh provides students with great memories and allows them to help themselves whilst aiding their local community.
Sam, one of the students who earned their Gold award, commented; "We had a fantastic day, and I'd like to thank Mr Parfitt for all the work he put in getting us to that stage."
For more information on the Duke of Edinburgh Award, please click here.