Look at Chris... he's a CFC apprentice!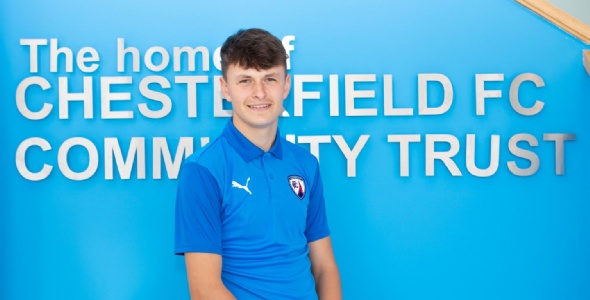 A former Tupton Hall student is gaining valuable experience at Chesterfield FC after embarking on an apprenticeship.
Chris Brown started working with the Chesterfield FC Community Trust as part of his work experience at Tupton Hall School in 2017, before going on to join the Emerging Talent Centre as a goalkeeper.
A Chesterfield supporter who travels to away games, Chris volunteered with the Community Trust later that year, working on the Soccer Schools as a coach, before lending Tommy Lee a hand at his Soccer School on the pitch. He went on to join the Trust's BTEC and Education Programme but, before long, felt it wasn't right for him.
Chris was then offered the opportunity to join the Trust as an apprentice. Chris said: "I had left the BTEC course and was looking for my next opportunity. The first time I heard about the apprenticeship scheme, I was interested.
"Whilst it's given me the chance to keep up my education, the hands on practical delivery is what really appealed to me.
"I have learned so much in a short space of time in terms of delivering PE, Lunch-time Clubs and After-school Clubs that I think I've become a confident coach, but I've still got a lot to learn."
Chris is now starting to get involved in delivering some of the Trust's Premier League projects, in particular working on the Equality and Diversity sessions.
He added: "I can't believe the breadth of delivery that the Trust does. I've worked in primary and secondary schools, on Sports Clubs, with our Pan-Disability participants and of course with Chester the Field Mouse!"
Keith Jackson, the Trust's head of sport and activities, said: "Chris should take time to reflect on what he has achieved since joining up with us on work experience and how far he has come in such a short space of time.
"He's a reliable, keen coach and has a fantastic relationship with participants. He still has a lot of potential to get better and I hope he is with us for a long time."
Chris has also taken on coaching a local grassroots football side and in addition, recently won the Hope Valley Referee of the Year award.
In addition, he has been helping with the Junior Academy, working closely with Neil Cluxton. "I want to get as much experience as possible and work across different departments," he said.
"I am keen to listen to as many of the experienced coaches we have here and learn from them too."
John Croot, the Trust's chief executive, said: "Chris is one of a number of apprentices that have come through our initiatives working with local secondary schools, using the power of the football club to engage with youngsters searching for their next steps.
"Along with our traineeship scheme, alternative provision, work experience and BTEC programmes, we aim to engage with as many young members of the local community as possible."
For more information on the Trust's projects for young people, please email enquiries@spireitestrust.org.uk
[Article reproduced from this original with kind permission from Chesterfield FC Community Trust]