National Science award for Hannah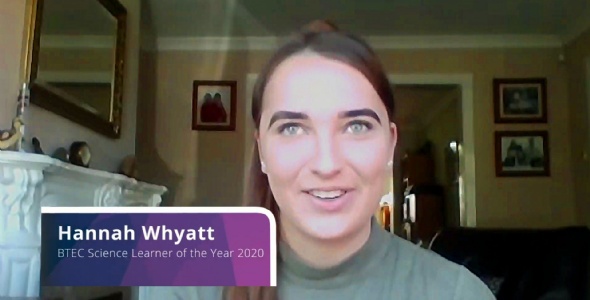 The exceptional achievement of Tupton Hall Sixth Form student Hannah Whyatt was celebrated as she was awarded the prestigious BTEC award for Science Learner of the Year 2020.
Hannah was recognised as an exceptional student by her teachers and praised for her outstanding potential and tenacity throughout the course. She was described as a committed student with the ability to inspire other students to do their best.
Hannah's hard work and dedication was celebrated at the tenth anniversary of Pearson's annual BTEC Awards - hosted online - on 25 June 2020.
Hannah said: "Being nominated I was honoured that my teachers saw the potential in me and believed in me even when I didn't. Then being told that I had won came as a huge shock but at the same time I was thrilled that my hard work and dedication had paid off."
Hannah hopes put her passion for science into practice when she embarks on a degree in forensic science at Nottingham Trent University in September.
She added: "Winning this award has given me a boost of confidence allowing me to see that I can achieve anything I put my mind to. I would like to thank the science department and my parents who pushed me to better myself. This achievement will no doubt help me improve throughout my career in science knowing that I will always have people there to encourage me that I am on the right path and give me the assurance that I need to continue."
The 2020 BTEC Awards comprised of 17 categories and was hosted by presenter of the United Stand, YouTube influencer and BTEC Ambassador, Flex. Awards were presented by Double Olympic Gold medallist Max Whitlock as well as actress and former BTEC Drama student at The BRIT School, Kellie Shirley. The expert panel of judges made up of Pearson's senior leadership team, journalists and external experts, carefully considered the nominees before deciding on the winners.
Charlotte Burton, Head of Sixth Form at Tupton Hall School, said: "We are absolutely delighted that Hannah has been crowned the winner of BTEC Science Learner of the Year. Hannah is a passionate scientist and has demonstrated a true passion and aptitude for the subject. She has constantly pushed herself to learn more and apply her knowledge to new topics. I am proud of all of our students at Tupton Hall School and the Science department who encourage them to achieve at the highest levels."