Students Get Creative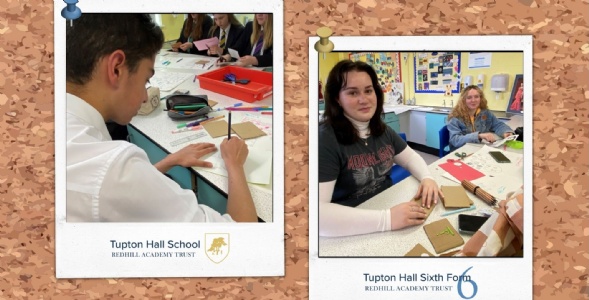 Students across all year groups work together to create an impactful art instalment for school.
On Friday 13th May, a group of students were given the opportunity to participate in a 3-day workshop. This exciting opportunity gave students the chance to work with an artist to create an art installation about sexual health. The school nurse visited the students to discuss the importance of breaking the stigma around sexual health and the positive effect that honest and open discussions can have.
Staff at Tupton Hall School wanted to include the students in the entire process, from creating ideas, designing potential artwork and even creating different elements to include in the final piece.
An array of students from different year groups were included in the process, and demonstrated important skills, such as brainstorming ideas, using printing techniques and even sewing designs with the help of Mrs Elliott. The artwork will be a reminder for students to break the stigma surrounding sexual health and hopefully start conversations that some feel embarrassed about having.