Tupton Hall School Supports Local Food Bank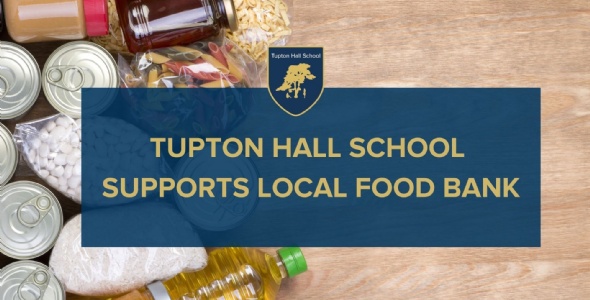 Each year, Tupton Hall School participates in Redhill Academy Trust's Festive Food Bank.
The event sees students and staff offering resources to local food banks during the festive period. Last year, during twelve months of adversity in the beginning of the pandemic, Tupton Hall students were able to donate almost one tonne of resources to those in need.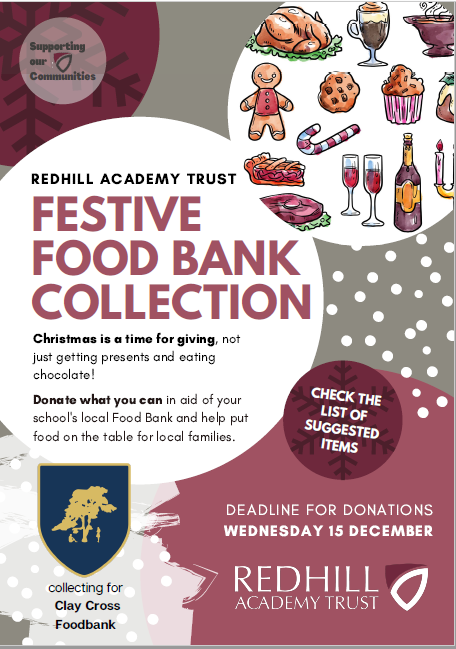 This year, students aim to collect even more food to help as many people as possible. Senior Assistant Headteacher, Ms Webb, says; "As Christmas approaches, here at Tupton Hall we are encouraging students to think about the true spirit of Christmas - giving rather than receiving. For the third year running we have chosen to support our local food bank by asking students and staff to consider donating food and other items to be delivered to the food bank in Clay Cross before the end of term in the hope that no-one in our community goes without at this special time of year.
"Teaching young people to consider the needs of others and take action to support them is part of our core value of RESPECT at Tupton Hall with this and other fundraising activities this term ensuring that students develop EMPATHY for other people. Student representatives will accompany staff members to deliver the donations next week and those who have done this in the past have said what a humbling experience it has been and how proud they have felt to be able to support their community."
Students who wish to contribute can take their donations to their House Offices.
Suggested Donation Items:
Christmas cake
Christmas pudding
Mince pies
Tins / boxes of chocolates / selection boxes
Tinned tomatoes / tinned vegetables / tinned fruit
Rice
Biscuits
Nuts & Sweets
Tinned fish / meat
Coffee/ tea
Jam
Breakfast Cereals
Tinned rice pudding
Custard
Long life juice
Instant mash
Cooking sauces
UHT long life milk